Buongiorno a tutti lettori, finalmente weekend! Molti di voi lo aspettavano, non è vero?
Io lavorerò sia stasera che domani ma non importa, ormai ci sono abituata.
Questa settimana ho letto davvero tanto, quindi da lunedì aspettatevi molte recensioni, di genere e stile diversi. Non vedo l'ora!
Inoltre, ho in mente per voi più o meno a metà settimana un articolo molto interessante che riguarda i vari modi con cui oggi si parla e discute della letteratura.
Oggi comunque il sabato è il momento di Cover Love!
Cover Love è la rubrica inventata da Glinda che consiste in una classifica formata da tre copertine fantastiche. Voi potrete commentare e modificare la mia classifica a vostro piacimento.
Nello scorso appuntamento, la mia classifica è stata ribaltata portando la terza cover in classifica in prima posizione.
Al primo posto di questa nuova classifica, si posiziona Hunted di Meagan Spooner.
Dovrebbe essere un retelling de La bella e la Bestia e tutti l'hanno adorato, quindi non nego che gli faccio la corte da un po' di tempo, merito anche della cover semplicemente favolosa: mi piacciono il verde come colore predominante,il contrasto con il castano dei capelli della ragazza e il fatto che sia così luminosa!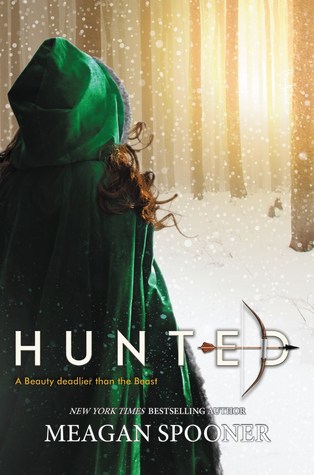 Beauty knows the Beast's forest in her bones—and in her blood. After all, her father is the only hunter who's ever come close to discovering its secrets. So when her father loses his fortune and moves Yeva and her sisters out of their comfortable home among the aristocracy and back to the outskirts of town, Yeva is secretly relieved. Out in the wilderness, there's no pressure to make idle chatter with vapid baronessas…or to submit to marrying a wealthy gentleman. But Yeva's father's misfortune may have cost him his mind, and when he goes missing in the woods, Yeva sets her sights on one prey: the creature he'd been obsessively tracking just before his disappearance. The Beast.
Deaf to her sisters' protests, Yeva hunts this strange creature back into his own territory—a cursed valley, a ruined castle, and a world of magical creatures that Yeva's only heard about in fairy tales. A world that can bring her ruin, or salvation. Who will survive: the Beauty, or the Beast?
Al secondo posto, invece, si posiziona A sorrow fierce and falling di Jessica Cluess.
Che dire? Non penso ci siano parole per descrivere la bellezza di questa esplosione di colori che colpisce direttamente e cattura l'attenzione.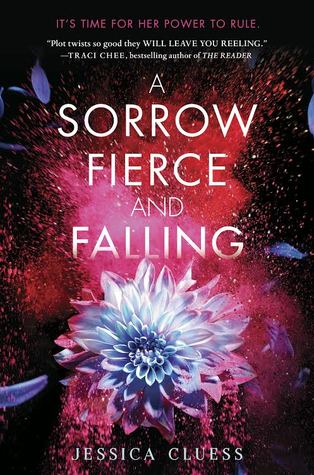 Henrietta Howel can burst into flames. When she is brought to London to train with Her Majesty's sorcerers, she meets her fellow sorcerer trainees, young men eager to test her powers and her heart. One will challenge her. One will fight for her. One will betray her. As Henrietta discovers the secrets hiding behind the glamour of sorcerer life, she begins to doubt that she's the true prophesied one. With battle looming, how much will she risk to save the city--and the one she loves?
(trama del primo libro per evitare spoiler)
Al terzo posto, non meno bella Reign the Earth, dalle atmosfere orientali e dai colori desertici.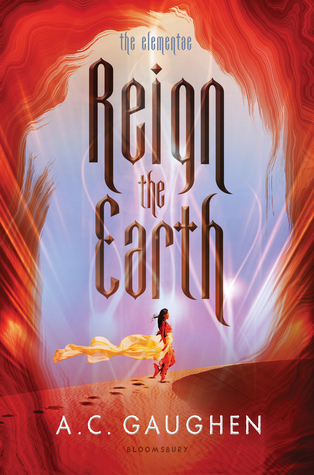 Shalia is a proud daughter of the desert, but after years of devastating war with the adjoining kingdom, her people are desperate for peace. Willing to trade her freedom to ensure the safety of her family, Shalia becomes Queen of the Bonelands.
But she soon learns that her husband, Calix, is motivated only by his desire to exterminate the Elementae—mystical people who can control earth, wind, air, and fire. Even more unsettling are Shalia's feelings for her husband's brother, which unleash a power over the earth she never knew she possessed—a power that could get her killed. As rumors of a rebellion against Calix spread, Shalia must choose between the last chance for peace and her own future as an Elementae.
Ora la scelta spetta a voi, ditemi quale cover preferite oppure qual è la vostra personale classifica di gradimento!
Vi auguro un buon weekend,